Burke Mt.
Bike'n & Beer Fest!
Once again the Dieselbikes crew ventured up to Burke Mountain and hung our with the Sinister Bikes crew during the 3rd annual Bike'n & Beer Festival. This was the first time the DB crew attended this festival and we can not wait until next year's event. Burke Mt. now hosts lift service and the trails there are fun for all levels. From high speed dirt jumps to long flowy downhill trails, this place has it all!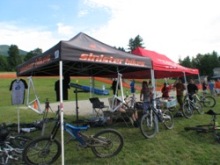 Sinister Bikes...
Have you heard the buzz!
If you have not heard the buzz, go and check out the Sinister website and read if for yourself. Apparently they are under new management as listed under their contact page. Plus, we noticed the phone has changed. We are not sure exactly what's going on, but our sources say there coming back and coming back big!
Anyone who has ridden with the Sinister crew know they are all a bunch of great guys! Its great to see a local bike company battle through the odds and survive to keep the New England Freeride representation alive!
We wish them the best of luck and will support this local bike company as much as possible!

New Feature
Video Posted!
This video was created last year, but features members of the Sinister Factory Team riders.
Produced on local trails...many who will know the locations and filmed by Mark Veilleux it has a flavor of its own.
Check it out on our MEDIA page!