Our first ever mountain bike event was a complete success! On Sunday June 3rd, Dieselbikes was proud to host a DEMO day mountain bike event in Lynn Woods (Lynn, MA) titled "D-DAY". This event hosted 14 local bike shops and 5 manufacturer reps showcasing 2007 and some 2006 DEMO bikes for the general public to ride. The weather was not the best with overcast skies, cool temperatures and the threat of heavy rain, but the event went off without a hitch.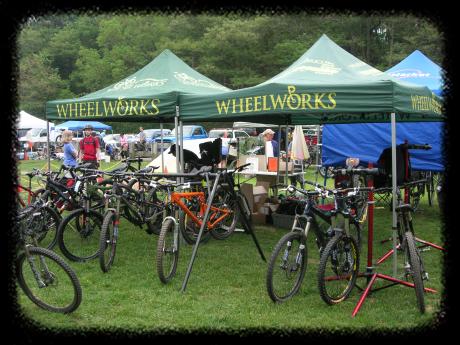 With over 60+ DEMO bikes available to test ride, event attendees did not have a limited selection of bikes to choose from. DEMO bikes ranging for light weight XC models to full suspension downhill rigs were on display ready for all to ride. Our sponsoring manufacturer reps lead the charge; bring some of the sweetest bikes along with their technical knowledge of bike setup and riding technique. Attendees were not only able to test ride these bikes, but ask questions and compare different model/manufacturer bikes side by side. In addition, technical information, bike brochures, pricing and model lead-time was available upon request.
There were to forms of group rides held during this event. Throughout the day Dieselbikes lead DEMO bike rides on a pre-determined trail through a small portion of Lynn Woods. This course providing a little climbing, technical rock gardens and a short flowy downhill section to give attendees riding DEMO bikes a good all round feel for the bike they were test riding. Their were also three non-DEMO group rides in Lynn Woods for attendees who wanted to explore and/or was their first time visiting Lynn Woods. Our local sponsors stepped up to this challenge leading groups as big as 20+ into the woods. We were told by many people during the event, "We have never seen so many bikers in the woods at one given time".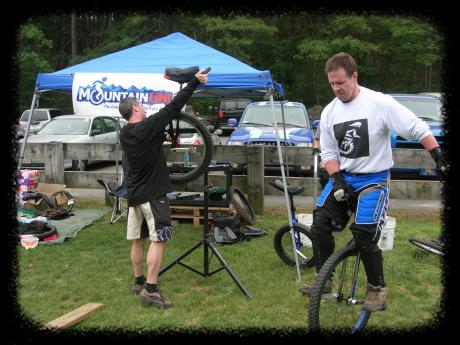 Mountain bikes were not the only vehicle to DEMO ride. Jeff Putnam of Mountain-UNI was present showcasing off-road mountain unicycles. Jeff had available a Trials Unicycle, Freeride Unicycle and XC 29" unicycle for attendees to DEMO ride on the event field along with a few wooden stunts. With his booth set-up, Jeff was a busy man with many individuals wanting to try these one wheel wonders. Way to go Jeff!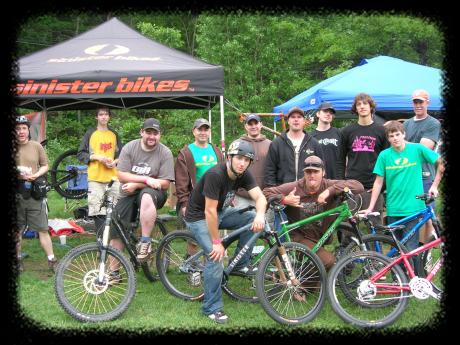 If you were not there to ride DEMO bikes, you were most likely hung around for the Sinister Jump Jam. Sinister put on a show that was beyond expectation. Back flips, 360 spins and a host of other aerial stunts were on display as the Sinister jump team hit the ramp. After the jump jam show, Sinister had the crowd going wild with tons of free swag ranging from t-shirts to MAXXIS Tires. In addition, Sinister donated a sweet "HOT PINK" Ridge hardtail bike frame as first prize for the Dieselbikes event raffle. We were amazed by there support and efforts with this event, thanks guys!
Among DEMO bikes, unicycles and a jump jam show, this event featured food and live music too. Redbones was in attendance serving a host of great food. We heard from a number of attendees the JERK BEEF sandwich was a must! The smell coming from the Redbones tent was so potent, people attending the softball game next to our event drop by to have some great BBQ.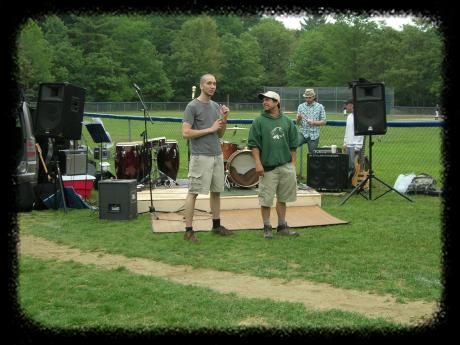 Our music venue was directed by Chris Keating Productions and featured musicians such as "Walnut - da lyrical geni", "James Nation" and "Mallary Cutler" just to name a few. The support from these local New England music groups added another level of karma to this event. The genre of music ranged from bluegrass, to funk, to rock. All we know, the vibe was flowing from the moment the bands started playing until the end of the event. Again, we want to thank all the bands and the efforts of Chris Keating Productions. If you want to know more about these bands, you can contact them through Chris Keating Productions (chriskeating@chriskeatingmusic.com).
Last but not least, we have a list of thanks we need to send out. First off, we want to thank our volunteers who took time from their own busy lives and helped support our event. With out them, this event would not have functioned so smoothly. We want to thank all of our sponsors who spent time and money to come out and support this event. With out them, this event would have been a bust. Our thanks also goes out to the City of Lynn for there trust and confidence in Dieselbikes abilities to hold such an event. There is always an unknown when someone new approaches the City with a large scale event, but they gave us the green light to proceed. Without their support, this event would have never happened. We look forward working with the City to bring bigger and better mountain bike events to Lynn Woods.
Again, thank you to all and look forward for this event in 2008!