There is talk in the On Saturday October 10th, the City of Lynn presented the 6th Annual Dungeon Rock Day hosted by the Friends of Lynn Woods.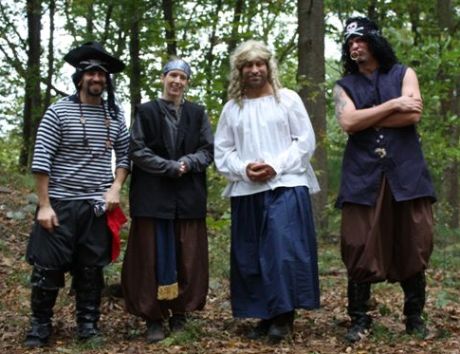 What is Dungeon Rock Day? It celebrates the legend of Captain Thomas Veale, a seagoing pirate who became a Lynn resident to hide his sinister past. Legend has it, Captain Veale came to Lynn Harbor in an effort to hide his treasure and escape the British who were hot on his trail. He was able to find shelter in a cave and hide in relative peace becoming a resident of Lynn, hiding his true identity. During 1658, an earthquake shook the surrounding New England area causing a collapse in the cave Captain Veale was hiding in. Captain Veale was never seen again (no public records) and the assumption was that he had became entombed in a Dungeon of Rock and perished.
That's the legend anyway; Dungeon Rock Day provided a brief fictional reenactment of the events surrounding the legend of Captain Veale's hidden treasure. A number of local volunteers dressed-up like pirates, British Soldiers and vagabonds to reenact the different scenes depicted in this legend. Among the list of volunteers for our 3rd year of acting were a few members of Dieselbikes.
The fictional story this year revolved around the kidnapping of Captain Veale's daughter by British Soldiers. The British Solders were attempting to take Veale's daughter back to prison in England unless Veale turned over the stolen gold. The play comprised seven different scenes, the Dieselbikes crew acted in scene #4.
In scene #4 the Dieselbikes crew were swash-buckling pirates who were attempting to steal gold coins from the crowd by passing off a fellow (male) pirate dressed up as Captain Veale's daughter. We were hilarious, assuming that was why the crowd was laughing, as we tried to get audience members involved during the show.
With over 1,000 people in attendance it made for a long day, but it was super enjoyable! This event helps generate needed money for the Lynn Woods Park Ranger Fund that in turn supports the trails we all love. We plan on attending next year's event and work with the Friends of Lynn Woods. You're all invited to attend and join in the festivities – acting parts may even be available if you sign up soon!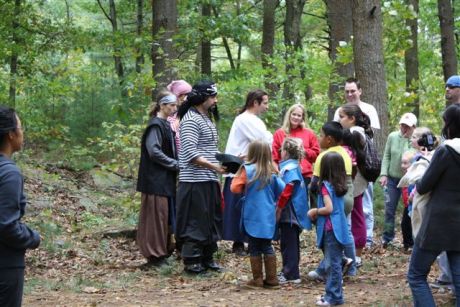 If you wish to read more about the legend of Captain Thomas Veale and Dungeon Rock please visit The Friends of Lynn Woods Website: www.flw.org
Posted By: Diesel
Date: 10/12/2009