A few members of the Dieselbikes crew along with other local New England riders took a road trip to Highland Mountain in Northfield, NH. About a 90-minute drive from Boston, Highland Mountain is the newest downhill/freeride park in New England that exclusively caters to mountain bikes. That's right…JUST mountain bikers!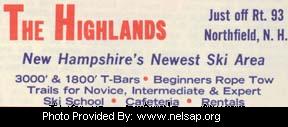 Highland Mountain Bike Park (HBMP) was formally known as The Highland Ski Area before closing in 1995. Highland has a long-standing history in Northfield NH, opening sometime in the later 1930's. In a 1939 winter issue of, "The Skier's Guide to New England", Highland Mountain was listed as a hike up ski down area with 0.75 miles of trail at 15-degree slope and a vertical drop of 500 feet. A humble beginning to what currently exists now.
Throughout the 1940's to mid 1960's Highland Ski Area attendance fluctuated up and down to the point the facility may have closed for a period of time due to financial losses. In the mid-1960's the mountain was under new management and reopened with access to the summit, mid mountain T-bar and rope tow. Highland Ski Area grew slowly through the 1970's; expanding their trail system from 5 to 10 trails. In the mid 1980s to early 1990s, Highland expanded a great deal more by removing the summit T-bar and replacing it with a Borvig Triple Chair Lift and further expanding their trail system from 10 to 22 trails. In addition, the mountain also offered a Ski School with a number of instructors and had snowmaking capacity for up to 60-acers.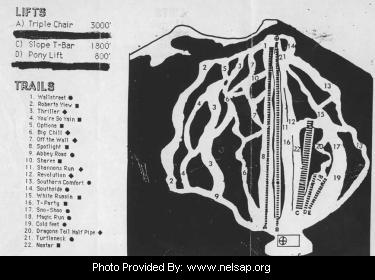 In its hay-day, Highland Ski Area offered food, lodging, night skiing and a half pipe. They held racing events, family fun snow events and ski clinics across their 20+ trail system. In the end, a broken snow making machine and a run of consecutively bad (no snow) winters in the early 1990's placed Highland under heavy financial burden forcing it to close in 1995. It remained closed until 2003 where it has been transformed into a mountain bike park with a define goal to change the downhill mountain biking scene here in New England.
Now in its third year, HMBP is on track to become a premier destination for mountain biking. HMBP offers food & drink, bike rentals, equipment rentals and a bike shop to help with those unexpected (or last minute) bike repairs. All this located conveniently in their base lodge where you can sit, relax and watch some mountain bike videos and/or other patrons riding the mountain.
HMBP currently offers 5 distinct trails, each with there own unique terrain. Fancy Feast is the easiest of the five trails and perfect for beginners and/or that first warm up run. Labeled as a green (beginner) trail, Fancy Feast is a flowy trail packed with rolling dips and small kickers. Most of the sweeping turns have berms built-up to keep you in the groove without loosing much speed and the average decent or grade of the trail is not steep (less then 15%; just a guess), so pedaling may be required in certain sections.
Eastern Hemlock is our next suggest trail to ride after you get warmed up on Fancy Feast. Labeled as a blue trail (intermediate) Eastern Hemlock an excellent trail for riders of all levels to get the feeling of a bumpy, rocky and rooty New England trail. This trail contains a number of technical rock garden, berms and wooden bridges. Eastern Hemlock does not have a large number of technical stunts, but is a great "well defined" intermediate trail (our opinion) for beginners to step-up their riding game. This trail is a little steeper then Fancy Feast but the average decent or grade may be similar. Eastern Hemlock does have a number of quick elevation changes (all down) and the width of the trail can become tight through those twist and turns.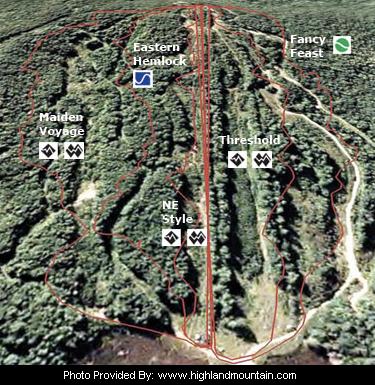 Maiden Voyage is our next pick to get the blood going. Similar to Eastern Hemlock as far as terrain, Maiden Voyage is packed with technical stunts, skinny log rides and technical jumps. You can float down this trail transitioning from technical terrain to wooden TTF's with ease. All of the wooden TTF's have "B" lines to provide the rider with an option to bypass the stunts. This trail is marked as a black diamond (expert), so beginners or riders who do not partake in jumping stunts should take caution. Again, the terrain is similar to Eastern Hemlock, but the added TTF's (in our opinion) makes Maiden Voyage more difficult to navigate for beginners.
Threshold is a trail that exhibits a balance of technical terrain, high speed turns and wooden stunts. This trail crosses a number of old ski runs giving you the opportunity to ride flat-out. From the large boulder step-up, to the "REEF" drop, Threshold in one word is FUN! This trail is labeled as a black diamond (expert) and has somewhat a unique flow to it. You will find some technical sections similar to Maiden or Hemlock, but Threshold really allows you to challenge your self by adding speed to your decent.
NE Style or "New England Style" is a trail in a class of its own. Large ladder drops, tabletops and a sweet wooden wall ride makes this trail one of a kind. Fast, flowy and smooth, NE Style is all about body and bike control. You can easily spend a third of your time riding this trail in the "air". Jump after jump after jump, NE Style will either make you feel like a hero or a zero.
HMBP is an up and coming facility that is continuously adjusting and expanding their trail network. Just this past year they have added a dirt jump area and pump track to provide more riding options then just bombing down the mountain. Plans are in the works to further expand riding options with the possible addition of a dual slalom course and XC trails. The owners of HMBP plan on making this location a premier riding destination for New England.
If you have not been to Highland, get off your butt and get up there. We are certain you will enjoy the facility and friendly atmosphere riding with fellow mountain bikers. HMBP is owned and built by mountain biker for mountain bikers and is currently the ONLY downhill mountain bike park in the United States (maybe the world) that caterers mountain bikes.
By: Diesel
Date: 08/31/2007