Special Reports
Crazy Fred's New 2006 Ride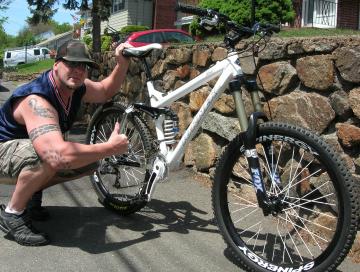 We are pleased to announce that fellow Dieselbikes member Crazy Fred is ready to rip this season with his new custom Turner 6 Pack. Nine months in the making and a precision build by JRA Cycles makes this bike possibly the sweetest freeride rig in New England.
Dieselbikes is showcasing this bike because the build has involved JRA Cycles and S&D Powder Coating too whom each have added their own unique touch; making this bike one of a kind. To further enhance the build, this bike will be the instrument to conduct our product testing of Spinergy's Fall Line FR Wheel Sets which they have so gladly provided for this build.
This Turner is one of the last Hoist link models to roll off the production line and has been built up with such components as Hope Minis, FSA Gravity Cranks, SRAM X.0 Derailleur (front and rear) and Shifters.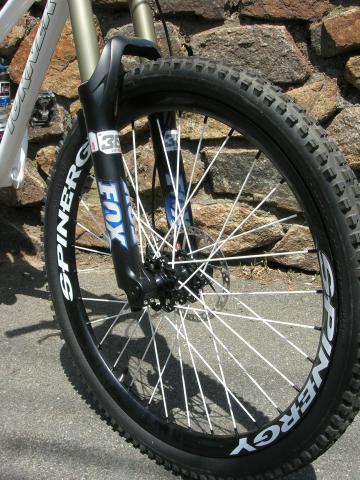 Crazy Fred is a hard man to satisfy when it comes to having his bike built. We at Dieselbikes want to thank Adam Klein at JRA Cycles for taking the time to assembly this bike in a manner that shows quality and workmanship. From the smallest detail to selecting the correct front fork spring, Adam was there to ensure this bike was ready. We also want to thank Brian at JRA Cycles who put this bike through its first paces. Brian was so impressed with the handling of this bike, he told Fred to take it away from him before he keeps it!
We also want to thank S&D Powder Coating for their superb job in powder coating the Gravity Cranks and rear shock spring to match the black and white theme of this bike. Their attention to detail, quality of work and ability to handle this custom job are factors that make them a great business to deal with.
Dieselbikes will be out and about putting the Spinergy's wheel set through some of the worst conditions New England has to offer. We will keep all posted with periodic up dated regarding the condition of them and if, when or why they failed.
If you want to get a close personal view of this bike and see it in action, drop Crazy Fred an e-mail. We ride Lynn Woods and B&T's most of the time but will find us visiting other local hot spots during the season.
By: Diesel
Date: 05/30/2006