Special Reports
Alutech Wildsau FR Test Ride...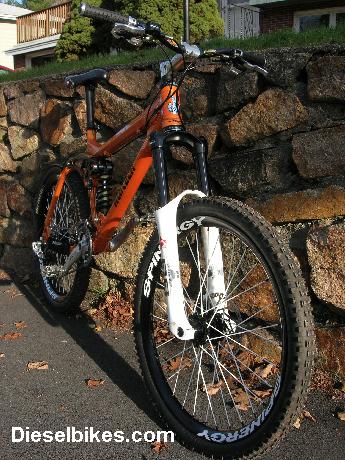 Fellow Dieselbikes member Crazy Fred has ridden many mountain bikes throughout his years in this sport. One of his favorite full suspension bikes is this Alutech Wildsau FR. This bike is manufactured in Germany and was just returned to Fred sporting their '06 Horst Link Rear Suspension Arm and sweet looking paint job.
I was given the opportunity to test ride the bike in Lynn Woods and pass it around during our group ride for others to give it a spin.
Considering this bike is designed to handle big drops and categorized by the OEM as a freeride beast, the bike traveled through Lynn Woods with ease. The bike was assembled by John Fagone of Bike Medics whom selected a sweet build kit keeping this freeride rig under 37lbs. Some of the featured build components are the Marzocchi 66 SL 1 ATA fork, Manitou Swinger Coil SPV 6-Way shock, Hope Minis w/ 6Ē rotors, SRAM X.O drive train, XT Cranks, XT Bottom Bracket and Spinergy Wheel Set. With an additional diet of components this ride can easily be brought down to the low 30ís for weight.
Why are we telling you (the local mountain bike community) about this Germany crafted bike? In short, this is a 6-7 inch travel bike that rides and feels like a light weight trail bike but has the strength and stiffness of a big drop bike. Riding this Alutech in Lynn Woods was like riding the trails sitting in a foam pit. From the loose rocky pothole sections of Overlook Trail near Balance Boulder, to the pine needle covered off camber short downhill trail near Boston rock, the bike absorbed everything I threw at it. Uphill climbs were not impeded with this plush suspension. Trail climbs that I normally have trouble cleaning in one pass, I was able to achieve surprising myself. Pedaling this bike seemed effortless and in some instances the rear suspension felt like it was helping.
I found the frame had a number of adjustments that would allow you to change head/seat angle and bottom bracket height. This is a valuable feature that few bikes have. We are sure there are other bike companies whom have similar designs and if we at Dieselbikes ever get the chance to demo them, we will be sure to let you know how ride.
This is Dieselbikes second test ride on a bike utilizing the Horst Link Rear Suspension design. Earlier this season, we road Fredís Turner 6 Pack RFX which was a fun bike. In a comparison between these two bikes, our hat goes off to the Alutech Wildsau FR. Trail riding felt great on both bikes, but in our opinion, the Alutech had better handling, smoother rear bump control and minimal feeling of rear frame flex.
If you have any questions and or comments about this bike, drop Crazy Fred and e-mail (fredb@dieselbikes.com) to get the 411.
By: Diesel
Date: 11/12/2006