Special Reports
The Bruce & Tom's Initiative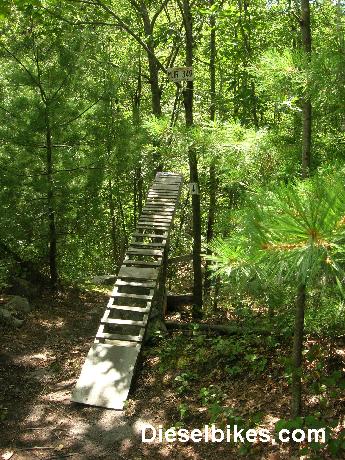 The plan has been drafted long enough and now it is time to execute! Dieselbikes is proud to present The Bruce & Tom's Initiative. We are going to apply the same level of commit we provide in Lynn Woods and deploy these factors to Bruce and Tom's. Working in conjunction with private land managers, we have been given the green light to begin a complete overhaul of this trail network.
This is a 5 year project plan that will encompass trail mapping, trail marking, trail naming, replacement of aging wooden technical trail features (TTFs) and new technical trail lines. Many love B&T's and Dieselbikes plans on helping in the developing of this super fun mountain bike location.
Like Lynn Woods, B&T's has seen its share of increasing bike traffic and now has grown too large for any small group of rides to maintain. Among this increased traffic, problems with stolen cars, ATVs and dirt bikes have been playing havoc with the trails. Methods to control the trail entrances will be employed to limit and or resolve some of these problems.
Dieselbikes is not just assuming mountain bikers are the only trail users at B&T's. Our ultimate goal is to develop a trail network that is suitable for multi-trail users in certain sections while cutting other trail sections that are more mountain bike specific similar to some found in Lynn Woods. We will also work with Essex County Greenbelt to incorporate there lands into this trail network and work to develop a practical location for parking.
When does this initiative start? It starts TODAY with your help. Dieselbikes is putting out a request for donations of material and or money to help build and support this great trail location. We are not looking for much, but any donation of any size will be accepted.
We are NOT a non-profit, so any donation provided to Dieselbikes is strictly YOUR gift and has NO tax credits or deductions. You can send your donations to the following address below and make them payable to:
Payable To:

Frank DiBenedetto

P.O. BOX 724

Lynnfield, MA 01940

or

Payable To:

Bruce Linehan

P.O. BOX 724

Lynnfield, MA 01940
If you have material donations such as lumber (PT or non-PT), flag stone, dirt and have a means to transport this material (or do not), please send us an e-mail and we will discuss the logistics of this matter. We will have an upcoming Trail Day at Bruce and Tom's to kick off this initiative in October 2006. Trail Day information will be poster shortly.
As all ways, we thank you for your support!
By: Diesel
Date: 09/11/2006