Special Reports
5.10 Shoe Company Supports Dieselbikes!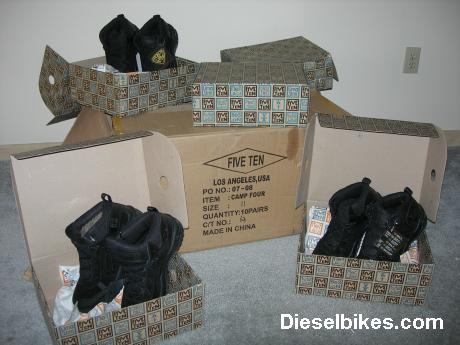 5.10 Shoe Company, a leader in the world of rock climbing shoes has graciously decided to support our grassroots operation here in New England. 5.10 has been know for its brand of rock climbing shoes, but in the past 5 years, they have taken their stealth "sticky" rubber technology and applied it to a new shoe designed solely for mountain biking. The "High Impact" Freeride Shoe is taken the bike industry by storm and their present here on the east coast is rapidly growing.
The 5.10 company has provided to Dieselbikes a complete DEMO set of "High Impact" shoes to help support our efforts regarding local trails. We will pass these shoes out to members of our club for them to conduct their own product assessment. Prior to this generous support, we at Dieselbikes were conducting our own product review for the past 3 months regarding the "High Impact" shoe. During this 3 month period, we contacted 5.10 to express our opinions regarding this shoe. Representatives at 5.10 were open to our comments, questions and suggestions; explaining to us how the shoe was developed and where they accept this market to go. 5.10 also explained they look to support grassroots operations (biking, rock climbing, etc) throughout the world in different capacities to help promote the respective sport. Dieselbikes can only assume our club met some sort of grassroots criteria for this support because we did not event attempt to solicit free product. 5.10's decision to support Dieselbikes was solely theirs and we want to say THANK YOU! We plan on working closely with the 5.10 company and their New England rep in the near future.
We have published a 3 month product review for the "High Impact" Freeride shoe. You read this product review by clicking on this link. A few of our club members will be riding with these shoes during the season. If you were thinking of buying a pair of "High Impact" Shoes and want an honest product assessment first, come on anyone of our local group rides and ask us. We will give you the facts…not Bulls*#t!
Click here for 5.10 Product Review
By: Diesel
Date: 06/15/2007