5.10 High Impact Freeride Shoe:
Is it just hype, or maybe the 5.10 High Impact Shoe is the best mountain bike shoe on the market today? Hearing the buzz and listening to a few riders that swear by them, Dieselbikes decided to purchase a few pairs of these shoes for two of our rides to beat the crap out of them this season. We want to see if these shoes are the real deal when it comes to all season riding here in New England.
A little about the shoes: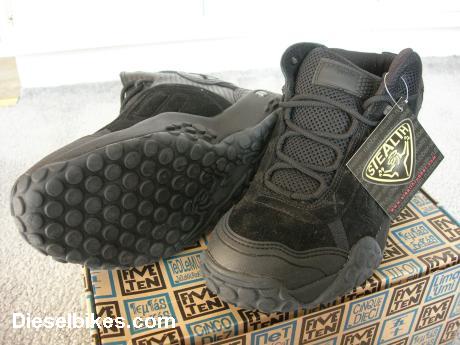 5.10 claim these shoes are perfect for 4X, DH racing and freeriding. They have a proprietary sticky rubber called "Stealth S1" which is the primary composition of the outer sole. This rubber sole has a unique circle pattern that is designed to provide an enormous amount of friction that translates into pedal grip. They are best used with platform pedals that contain just about any combination of pegs and/or set screws.
The 5.10 company is noted for mountain climbing shoes, but with the increase of aggressive mountain biking/freeriding over the past decade, it was just natural for them to apply their patented rubber compound and release a mountain biking shoe. Their High Impact shoe has been around for 5+ years and appears to become better each year as its popularity grows.
The company has kept this shoe simple. You have only one shoe style to choose from either in a low cut or high top version. Both the low cut and high top shoes offer the same sticky rubber sole, but also feature a rubber top cap and (what they call) a "Raptor" tongue. Also the shoes are triple stitched for durability…we will see about that!
Out of the Box:
We at Dieselbikes decided to purchase (directly from 5.10) the high top version, since it will offer some ankle protection during bike rides. We thought the shoes would be heavy (after looking at the online picture) but to our surprise, they were lighter then excepted. They were delivered to us in excellent condition and the shoes were pre-laced. 5.10s online size chart is similar to other shoe brands, but you still may need to go a half size up or down depending on your foot. This is something that you find with any shoe company. We had luck with one pair fitting our rider perfect out of the box, but the second pair we returned for the next larger size. Since we purchased them directly from 5.10, the return process of the wrong size shoes was hassle free. We just were required to pay for the shipping which was about $15.00 round trip. It took less then a 10 business for the complete return cycle using UPS.
With the correct sizes in hand, we tried on the shoes and they fit like a glove. The shoe is extremely comfortable and feels like it's molded for your foot. Again, this is something that surprised us since we have tried may other brands of mountain bike/freeride shoes and never had such an excellent fit out of the box. The "Raptor" tongue 5.10 speaks about is a pretty cool feature as it keeps the tongue centered in the shoe, makes lacing the shoe quicker and more uniformed, but lastly keeps the tongue from sliding down just incase you did not tie the shoe tight enough. We also were impressed with the rubber toe cap which was rather stiff and felt like the shoes were "Steel Toed".
This sticky rubber sole on the bottom of these shoes are in fact "STICKY". Even if you just run your fingers across the sole, you can feel the tackiness. The sole pattern is made up of a bunch of raised solid circles unlike other brand that use crisscross or straight line patterns. This pattern is unique and we are sure it is not just for looks.
The First Ride:
Now since we explained a little about the shoe, its time to put them into action. After getting geared up and stepping onto the pedals, you immediately feel the sticky rubber in action. Just pedaling around the parking lot, the shoe felt like it was glued to the pedal. We tossed in a few manuals, pivots and pedal kicks just to feel the performance of the shoe in a somewhat controlled condition.
Now it was time for the real challenge. We hit the woods, one rider on a hardtail, the other on a full suspension. The bike ride started out just as any general bike ride, we did a little climbing to get the blood going and popped some small rocks to get the feel and reaction of the shoe. So far so go, the sticky rubber is keeping the foot from moving. We did notice that once you place your foot on the pedal, it is hard to re-position your foot if you are not centered on the pedal. You need to pick your foot up (slightly) off the pedal to make it easier/quicker for any re-position. This may result from the shoes "New out of Box Condition" and should become better as we break/wear them in.
Shoe to pedal contact is firm and unlike some other brands, you do not feel the pegs/set screws that stick up from your pedals. This is good and bad depending on your point of view. The good feature of having a firm inner sole is your foot does not feel any of the pedal pins. The bad feature is you will not know where your foot position is located on the pedal since you can not feel the pins. Again, this is an opinion and the good/bad characteristics of "shoe to pedal contact" are rider dependent. We at Dieselbikes like the firm inner sole and hope over time this firmness will not wear.
We rode for 2+ hours and never had a feeling of foot swelling. Typically no matter what shoe you purchase, you generally get some foot swelling due to the nature of mountain biking. We are sure the glove like fit of the shoes helped reduce the feeling of swollen feet. But, even though the shoes are light, their ventilation appears to be on the fair side. The temperature during our ride was about 48 degrees and sunny. When we finished our ride and took the shoes off, our socks were damp. We did not run through any mud or water. We can only associate this dampness to factors of ventilation. Comparing this shoe's ventilation to other brands, they are on par. Plus they are the high top version and have lots of padding around the ankle area. We at Dieselbikes would not trade foot protection for great ventilation.
Final Verdict: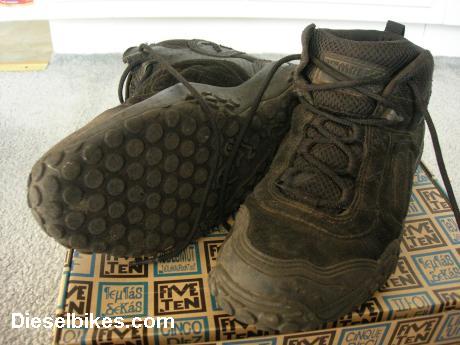 It has been 3+ months of riding abuse and the 5.10 shoes are holding up great. We have ridden miles and miles of singletrack, jumped/climbed rocks and even completed some trail work with them and the shoes are not showing any signs of wear. We are extremely happy with the sticky rubber sole pattern, as it appears to resist tearing. Typically with other freeride shoes; even after 3 months the underside sole begins to wear and or becomes heavily scared due to your pedal pegs. The 5.10 shoes have small marks due to your foot shifting on the pedal, but are not scared like other shoes we have used in the past.
The rubber soles do not have that "Extra" Sticky feeling as described during our first ride. The soles still provide the same pedal grip, but you do not need to pick your foot off the pedal, if you need to re-position your foot during riding. In other words…the shoes feel better now then first used out of the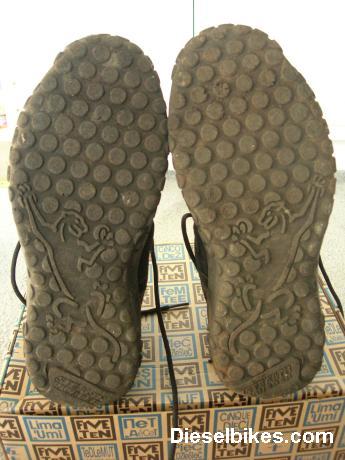 box. We spoke to a few other riders wearing the 5.10 impact shoe and their statements were the same as ours. The shoes work better once you break them.
The hard rubber toe cap does its job to a certain extent. When we experienced any foot/pedal slip, the hard rub toe cap protected the front portion of our foot from ground impact. This toe cap also helps just incase your buddy runs your foot over as you crash in front of them. Most freeride shoes have a heavy duty toe cover, but the 5.10's design, in our opinion is one of the best on the market.
Even after beating on them, the shoes still fit like a glove. We had minimal foot swelling using these shoes even after 5+ hour of riding. Soreness and/or foot fatigue were not even factors to be concerned with.
In all honesty, we love these shoes and have nothing bad to say regarding there ability to handle freeriding. We had a few of the raised rubber circle pads rip off the shoe, but all of them were on the side of the shoe and not on the sole. Their cost is on par with other brands of freeride shoes ($90-$120), but their quality and comfort level surpasses the competition. We hope 5.10 does nothing to change the performance of this shoes and continues to making them for the mountain bike industry for years to come.
If you have any questions and/or comments about this review, just drop us and e-mail.