2009 Mountain Bike Hall of Fame Inductees Celebrated
Crested Butte, CO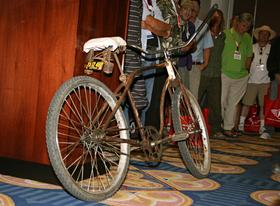 Since 1988, the bicycle industry has celebrated the best of its own with the Mountain Bike Hall of Fame induction ceremony at the Interbike Show, and the 2009 inductees included French downhiller Anne-Caroline Chausson, Colorado Plateau Mountain Bike Trail Association (COPMOBA), Marin County designer/fabricator Dave Garoutte, and the pioneering Larkspur Canyon Gang.
The Mountain Bike Hall of Fame resides in Crested Butte, Colorado, with Don and Kay Peterson-Cook as its curators.
The annual gathering of the pioneers is always a star-studded affair, with several inductees in attendance. For 2009, returning members in the audience included Joe Breeze, Gary Fisher, Ned Overend, Scot Nicol, Ross Shafer, Mark Slate, Marilyn Price, Greg Herbold, Tim Blumenthal, Steve Boehmke, Maurice Tierney, Cindy Devine, Ashley Korenblat, Chris King, Steve Blick, Philip Keyes and Brian Lopes.
Anne-Caroline Chausson
Industry veteran Steve Boehmke inducted French downhiller Anne-Caroline Chausson, who not only won the gold medal in the 2008 Beijing women's BMX race, she claimed 15 International Cycling Union (UCI) senior world championship rainbow jerseys, 14 French championships, and seven Mountain Bike World Cup championships. Compatriot Cedric Garcia accepted her award, as Chausson was unable to attend.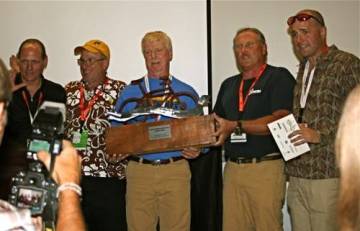 Colorado Plateau Mountain Bike Trail Association (COPMOBA)
International Mountain Bicycling Association (IMBA) director Mike Van Abel inducted the founding members of the Colorado Plateau Mountain Bike Trail Association (COPMOBA), who worked with the U.S. Bureau of Land Management (BLM) to develop the 144-mile Kokopelli Trail between Colorado and Utah, the 142-mile Tabegauche Trail in Colorado, and the Paradox Trail. The organisation celebrated 20 years in 2009.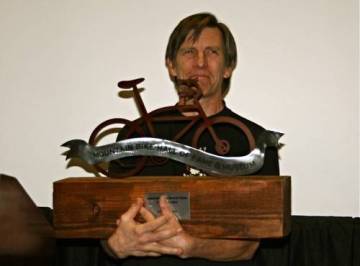 Dave Garoutte
Salsa founder Ross Shafor was eloquently emotional about his multi-decade relationship with Marin County designer and machinist Dave Garoutte, one of the bike industry best-kept secrets. Shafor regaled the crowd with the numerous time he'd present a simple concept to Garoutte, only to have a finished prototype in a matter of days. Garoutte has refined, developed and machined products for Charlie Cunningham, WTB, Koski, Salsa, Fat City, Serotta, Moots, Gary Fisher, Santa Cruz and several others, including Harley-Davidson and Yamaha Motor Sports. Garoutte was also a founder member of the Bicycle Trails Council of Marin, one of the first non-rpofit mountain bike organisations in the world, and one responsible for keeping mountain biking legal on the historic Mt Tamalpais, the birthplace of mountain biking.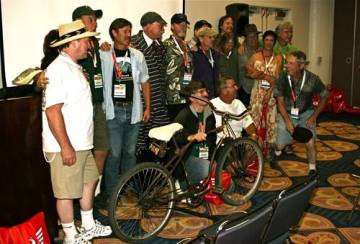 Larkspur Canyon Gang
Much has been said and written about the history of the commercial mountain bike, and no two individuals have had more ink or coverage rendered than Marin County pioneers Joe Breeze and Gary Fisher. After providing a stirring history lesson of noticing grade-school kids riding modified old Schwinn balloon-tyre bikes in Larkspur, California in the late 1960s, early 1970s, Breeze passed the mic to Fisher, who added his own blend of pazzaz and bravado. Fisher -- like Breeze -- has adamantly deferred to the many spokes in the wheel of mountain bike invention, and was thoroughly generous in his praise for the group of industrious and fun-loving teenagers who became known as the Larkspur Canyon Gang.
For more information, and to become a member of the Mountain Bike Hall of Fame, visit mtnbikehalloffame.com.
Source: Bike Radar
Click here for to visit the Article Source
Posted By: Diesel
Date: 09/27/2009