We at Dieselbikes occasionally need to give a local business shout-out to companies that contribute and or support our club's efforts. With that said, we need to give a shout-out to Cape Ann Brewing Company located at 27 Commercial Street Gloucester, MA 01930.
Cape Ann Brewing happily donated a few cases of delicious beer to Dieselbikes and Sinister Bikes to help quench our thirst during a difficult day out on the trails. Well the truth is…it was more like a few cases of Fisherman's IPA and Fisherman's Ale, but who is counting. We were well motivated to complete the required work at the Sinister Compound, having this well balanced, flavorful and refreshing brew ready to drink after a long day.
If your planning to visit the Gloucester area in the near future, you should consider scheduling a brewery tour and tasting before hand by contacting Cape Ann Brewing in advance. Any time you can visit a brewery, you most likely will walk away with a smile.
We look forward working with Cape Ann Brewing in the future regarding other bike related projects and or club sponsorship for 2009. Again, thanks to the crew at Cape Ann Brewing, keep up the good work and great taste!
Visit Cape Ann Brewery's website by click on this link.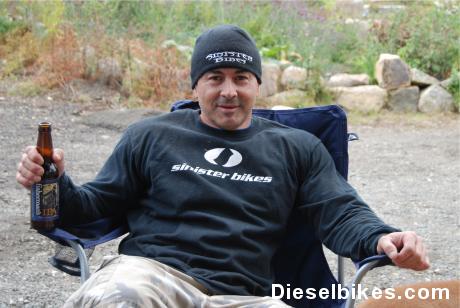 By: Diesel
Date Posted: 10/10/2008