Product Review -
Telonix 26x2.60 Hans Rey's Signature Series Kenda Tire
We at Dieselbikes from time to time receive products to test from bicycle industry representatives. We then submit our opinion regarding the product's quality and performance characteristics. Other times, we go out and purchase products to perform our own unbiased review and report our findings to the community.
Well, the latter is the case with this product review. A fellow club member has been using this model tire for almost 8 months and told me it is one of the best tires he's ever purchased. So with that said, I decided to go out and purchase two of these 26x2.60 Telonix tires and try them out myself.
Off the Shelf
The Telonix tire I purchased is the wire bead version with 2-ply sidewall construction and Kenda's "STICK-E" compound (P/N 212377). It can be used as either a front or back tire, has a specific rotational direction, and is available in a smaller 26x2.40 size wire bead or 26x2.40 & 2.20 folding bead versions.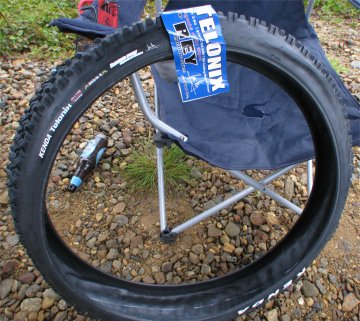 Grabbing the tire right off the shelf you notice its aggressive thread pattern and physical weight, around 1508 grams [3.32lbs]. There is a ton of rubber on this tire and Kenda gives a varying weight ratio of +/-85 grams. I know many riders that are concerned with the physical weight of bicycle components, but I personally do not care as long as the product performs to the manufacturer's claims.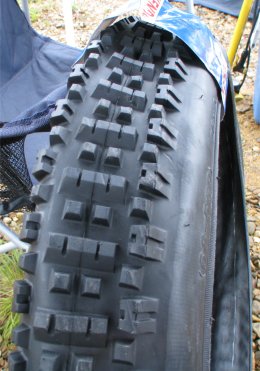 The tire's thread is one of the most aggressive patterns I have seen on a mountain bike tire. Large pronounced center knobs broken down into two staggered positions that reach out towards the mid-point of the tire's crown. The side knobs are also pronounced with a square "H" type shape that is also in a staggered pattern. Right off the bat this is not going to be a fast rolling tire, rather the claim to fame for this tire is its insane traction on varying trail conditions and terrain.
The Manufacture's Claim
Kenda claims the following, as quoted from their website: "…Given the scope of this race and the varying terrain Hans rides, a versatile tire is needed. One that can go uphill just as fast as downhill. The Telonix is just that. Taller and longer center knobs provide uphill grip and soft gradual ramp at the front provides downhill speed. The "H" shaped side knobs not only provide aggressive cornering bite, but also pay homage to the man himself. Its an all-round tire that works for all styles of riding, depending on the size of the tire and its compound it can be used for XC, Downhill, Freeride and Trials and everything in between."
On the Bike
I installed only one of these tires on the front of my hardtail Goatbike since I believe grip on the front tire is more important than the back. Plus, it will give me a decent comparison to my 24x3.0 Gazzaloddi. I must state that I do not run a conventional mountain bike rim that you would find on most bikes. I run a mountain unicycle rim that is 47mm [1.85in] wide rather than the typical 26 – 32mm [1 – 1.25in] wide mountain bike rims. The wider rim allows the tire's side wall to stand more vertically providing less of a developed radius, which helps in certain aspects of trail riding…but that is a different story.
I expected the tire to be difficult to get on the rim, since most wire bead tires are, but it slipped on the rim (dry) with minimal effort compared to other tires (Michelin, Intense & Arrow) I have used of similar size. I inflated the tire to 18psi which is typical for my riding style and possible to run without flats due to the wide rim. With the tire inflated on the bike, the aggressive look over shadowed my 3.0 Gazzaloddi tire. I was ready to hit the trails.
First Impressions & Test Ride
My first ride on this tire was June 16 in Lynn Woods [Lynn, MA] and just by luck, it was a rainy day. This was the perfect opportunity to see how this tire grips on wet slimy rocks and roots. Well, it did exactly what the manufacture claimed. By the end of my 2 hour ride, the tire had exceeded my expectations.
I started the ride slow and purposely rode over off-chamber roots and slimy rocks to gain a feel for the tire's capabilities; there was no front wheel slippage. I was impressed since many new tires need at least a few rides to break in.
Next I decided to slowly crawl down an off-chamber rock descent a few bike lengths long. Normally, descending slowly with the front tire not perpendicular to the rock places a large load on the tire's side wall causing the thread pattern to twist and fold, especially with such low air pressure. This move typically reduces the tires ability to grab the rock and causes slippage. Well, the Telonix held to this wet & slimy rock as if it was glued to it. I was again surprised and stepped it up by performing the same move, but with several stops on the rock. Again the Telonix held! There was a small amount of wheel slippage which is excepted since I locked the front brake to stop the bike on this off-chamber descent, but the tire held…and I am no light rider [200+lbs].
The Beat-Down
With the first ride out of the way, I decided to put these tires to a real test and take them downhilling at Sunday River, ME and Highland Mountain, NH. First was Sunday River. I rode my hardtail Goatbike with just the front tire in test. All I can say is that Sunday River's trails are an ideal place to see if your mountain bike tires have traction control. The day we rode, the trails were wet, muddy and some had water running down them. I bombed down trails such as Grease Monkey, Crater and Black Fly with speed putting this Telonix tire to the test. Where ever I pointed the tire to go, the Telonix drove the bike with the quickest response time of any front tire I've owned. The tire never made me lose confidence or cause me to hesitate in a turn regardless of the technical terrain.
Next it was off to Highland Mountain where I changed up bikes running a full-suspension with more standardized 28mm wide mountain bike rims. This time I ran the Telonix tires in both the front and rear pressurizing them to 28psi since I wanted to avoid pinch-flats with the narrower rims. It was a little more difficult to get the tires onto these narrow rims, but once on, they looked like motor-cross tires with an aggressive pronounced crown. The combination of the narrower rim and big tire result in a large side-wall radius that, I feared, could reduce traction and cause the tire to fold during aggressive turns.
Well, typical of New England this year, it rained heavy the night before and the trails were soaked. I started out with a warm up run on Cat Scratch Fever to gain a feeling for the tire's performance on narrow rims. I had the same performance expectations riding these tires here at Highland as Sunday River. Once again, no matter where I pointed the bike, the front tire remained glued to the trail driving the bike.
This was my first time running a Telonix on the back wheel, and I will say it was a level above the Gazzaloddi tires I typically run on my rear wheel. The rear tire gripped just as well as the front, negotiating with ease trails such as Shillelash and Maiden Voyage, both packed with lose rocks, large exposed roots, and tight turns with steep dives. With each run my confidence in these tires grew to the point that I wanted to make them break loose from the trail just to see how they reacted.
I did force the tires to lose traction multiple times, but the reaction time for them to hook-up was extremely quick. As the bike would drift, the Telonix's regained traction and the bike would snap underneath me causing my body to move over the bike more than anticipated. In short, it was a work-out making these tires lose traction, and pointless to even consider worrying about them losing traction while riding.
Tire Braking
Many tire reviews do not cover the subject of braking ability as a topic, but braking is just as important as forward traction. In this category, the Telonix performed just as well in my opinion. I have been riding a number of tires that provide excellent forward traction, but don't hang on when you begin to break. I run 8" rotors on both of my bikes and usually need to feather the rear break even with my Gazzis. Well, whenever I applied the brakes, the Telonix felt as if they were still digging into the trail. Tire thread design, spacing and knob flex are just a few factors that play a role in the tire's ability to maintain a decreasing rotation as your braking force increases. The manufacturer was able to maintain an even balance for these tires and that is probably why it was so hard for me to make the tire break loose.
XC-Ride Test
All done with my gravity testing, I figured I'd give these tires a try on some nice rolling single-track and see how they faired for uphill climbs with my full suspension bike. Since I was running the larger 26x2.60 tire with sticky compound, I knew the rolling resistance would be "at best" fair. I journeyed out for a 2+ hour trek and did find the tire's rolling resistance to be high, but compared to others tires such as the Minion DHF 42 or 60 (Maxxis) and DH FRO Lite (Intense), the Telonix rolls only slightly better.
Climbing up loose rocky and rooted (dry or wet) terrain was where I really noticed the Telonix's ability. It was like having a tank thread on the back of the bike. No matter what the terrain was or the climbing angle, this tire remained hooked into the ground. As long my legs were able to push the pedals down, the tire dug into want ever it contacted. Having extremely high confidence in the Telonix's traction control, I pedaled up rock faces on which I know other rear tires I've used have failed. The Telonix, however, remained glued to the rock allowing me to transfer my pedal torque to the trail.
In my opinion, the tire performed quite well in an XC application even though it was way overkill. I believe the smaller 26x2.20 or 26x2.40 folding bead would be ideal. The rolling resistance would still be higher relative to other specific XC tires, but I feel the traction control offered by the Telonix would be worth the extra pedaling for most mountain bikers.
The Wrap-Up
The 26x2.60 Telonix is a great all-around tire that can be used for a number of riding applications. It provides suburb grip on a variety of terrain and maintains excellent crown edge traction for off-chamber climbs and descents. The tire effectively applies the pedaling torque to the trail and is flexible enough conform to trail obstacles with out significant loss of traction.
With its excellent traction control, the Telonix also provides hands-down superb breaking power. Once again, breaking power is uniformed across the tire's crown with a slight decrease as you approach the edge, but out-performs tires from other manufacturers with similar claims.
Kenda's claims for the Telonix are right on. I do not have a down-side to report for this tire. Yes rolling resistance is high and this 26x2.60 is heavy, but compared to other similar model tires I have used, this one is two steps above.
This tire would be ideal for mountain bikers who do aggressive trail riding and downhilling for fun. I would not consider this to be an ideal tire for racing (nor does Kenda) or for long distance XC rides, but if you're looking for a tire that has outstanding traction, the Telonix is one tire you should consider.
Review & Posted By: Frank "Diesel"
Date: 07/31/2009