Spinergy Fall Line (FR) Wheel Set:
The bike season here in New England is in full swing and we at Dieselbikes are ready to begin our product review of Spinergy's New Fall Line (FR) wheel set. We are happy to say that Spinergy is working with Dieselbikes regarding this review and has gladly provided a wheel set for us to test.
The Product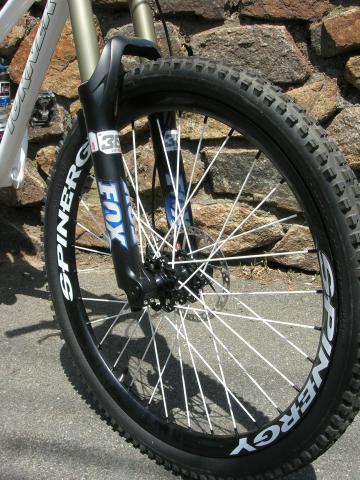 Spinergy manufactures their own wheel sets and claim their FR product line is "Tough, Indestructible and built for abuse". Built using custom CNC machined parts and their own patented PBO Fiber Spoke Technology; these rims are light and have a custom look. The customer can select rim and spoke colors to match their mountain bike. For the complete OEM specification, please visit this direct link to Spinergy FR product line.
The Test
We at Dieselbikes plan on punishing these rims riding them on some of the toughest trails local to the Boston area. Whether they survive our 90+ day challenge, you will know below in our Final Verdict Statement. Out of the box, the rims are surprisingly light but stiff. The rear hub is solid and has a sounds/feel like it's a Hadley. In either case, looks are great but performance and durability is what we are looking for. We began our initial test at Bruce and Tom's going easy just to get a feel of the wheel set on the trails. After hitting a few small drops and blasted through technical single track with complete control, the rim's performance surprised us with minimal flex even through a few rock gardens.
Again this is just the beginning and we plan on switching riders and bikes with these rims to give you an accurate report.
We will post further information about our testing as we take these rims to Lynn Woods, Nam and Highland Mountain. If you have any questions and comments, please feel free to drop us an e-mail.
The Final Verdict
Well here is the final verdict... the rims held up! I must say we at Dieselbikes are surprised these rims did not fail during our testing. We took them to Lynn Woods, Bruce & Tom's and Vietnam. We hit drops to FLAT, some with transitions and rode the rear wheel with a flat tire down some of the nastiest trails Lynn has to offer. Throughout all that, the rims survived.
Among the normal scratches due to rocks and a few crashes we lost a little tension with only one spoke on the rear wheel. Aside from that, both wheels stayed true with no flat spots and or additional wheel flex.
Both hubs are Spinergy products and we have nothing bad to report about them. I have had freeride hubs in the past that began to loose up and/or bind on the axle after a few big hucks. I can only compare the Spinergy hubs to Hadley's or Chris King hubs. Smooth action, little flex and quality machined components with little to no play.
We had many riders comment on the looks of these rims. 9 out of 10 said the wheels look sick and the white spokes were sexy. Another comment was that the spokes were so thick yet the wheels were light. The reason for this is because the spokes are fiber (like plastic) and not metal (steel). When you go to feel the spoke tension, you may think at first they are loose, but as you begin to feel the other spokes, you realize this is by design. The spokes were one of our biggest concerns. We really thought they would flex so much, their performance would be comprised. But they did not... they felt just like all steel spoke rims and were not light riders!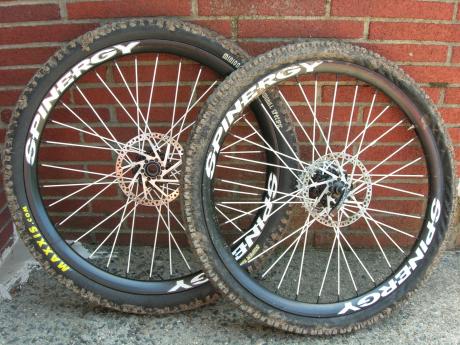 We love these rims, but do have one aspect we disliked. Everything related to performance, durability and quality parts can be said about other quality rims. With this in mind, the most frequently asked question regarding these rims were; "How Much Do They Cost?" Compared to building a wheel set consisting of Hadley's and Sun Mag30 Rims with steel spokes, you will pay more for the Spinergy set. But if you're looking for a light weight, strong, custom looking (spokes come in many colors to match your bike) wheel set, Spinergy Fall Line Wheels are the way to go.
We understand why these rims cost a pretty penny, but light weight combined with strength comes at a premium price. In addition, this wheel set is a fairly new product with new technology (PBO Fiber Spokes) on the market providing the rider with an array of colors to choose from to create that one of a kind look on your bike.
Regardless of these statements and or opinions above, the Spinergy Fall Line Wheel Set did the job they were designed for and that is the bottom line!
If you have any questions and/or comments about this review, just drop us and e-mail.