Product Review - 2008 Marzocchi 66RC3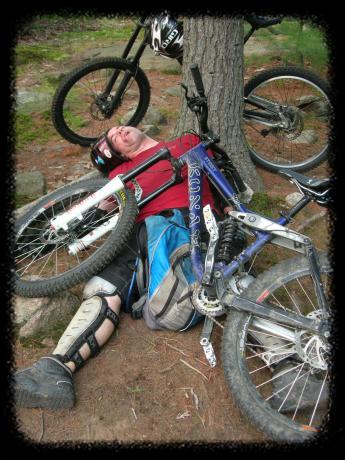 If you are in the market for a new front fork, we may have the right fork for you. Dieselbikes crew member Paul "Crashpad" went out and purchased a 2008 Marzocchi 66 RC3 and put the fork through a beat down. If you know how Paul "Crashpad" rides, then you know he goes through bike parts as fast as we can drink a case of Sam Summer! Below is a short product review of this fork with just the facts and no long winded dragged out blab, blab, blab…well you get the point.
I purchased the Marzocchi 66RC3 on the advise of some other local riders. Installed on my 2007 Kona Stinky I have been ridding this fork for almost two months and feel its time to share my opinion. The fork has been ridden on a number of local trails such as Lynn Woods, Middlesex Fells, Gloucester and other North Shore locations. I also hit some downhill locations as Highland Mountain Bike Park, Bromont (Canada), and even did a Montreal urban ride!
Out of the box using the stock spring and factory settings, the fork really shines in the freeride arena! Easy to reach rebound and mechanical pre-compression knobs on top of stanchions allow for fast adjustments. The fork has 7" of travel that is fully usable and smooth throughout the stroke. As usually (at least with me) the fork did need a short period of time to break. After a few rides I only required adjustment of the rebound dampening to remove top out feeling. Super responsive and moderately powerful for medium drops, though it does bottom out on large steep rollers but we are trying the air preload chamber for the first time. This fork is a single crown and its weight isn't so bad given that it has a mechanical spring. Surprisingly the fork really climbs well for having 7" of travel.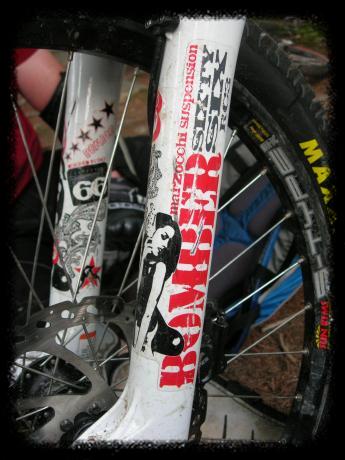 Urban riding 30+ miles on a Stinky is not recommended but the fork was great. I just had to crank the mechanical pre-compression up to the max and got rid of most of the pedal bob in the front while still preserving ability to hit walls, stairs and other stunts you can find in the city. Full on DH riding does push the fork to it's limits, but this could be the rider as well…lol. Riding the World Cup trail at Bromont (Canada) definitely put the fork through its paces, but it has been one of the better forks I have ridden on such terrain. For XC and light FR/technical XC duties at the Fells, the fork was superb! It was like the front wheel stayed glued to the trail. Responsive through rocky stuff at Bromont and taking most drops in stride the fork handled everything this 200+lbs rider dished out.
At $900 retail, the fork is expensive but compared to other forks in this class like the Fox 36 VAN RC2, the price is not that bad. Better ride obviously than the older 150MM Drop Off series dual crown with no adjustments that comes standard with the Kona Stinky. If you're like me, and air forks just don't seem to work for you, the Marzocchi 66 RC3 is good choice especially if you don't want the encumbrance of a dual crown fork. At 7" of solid travel, all FR duties are mastered and most DH as well, the 66 is a well rounded fork that delivers what Marzocchi claims. Most importantly, the white lowers mean you can really pimp it out your ride with those new white rims that all the cool kids are riding!
If you have any questions and/or comments about this review, just drop us and e-mail, we will do our best to give you an answer.
Review By: Paul "Crashpad"
Posted By: Frank "Diesel"
Date: 07/03/2008