Product Review - Try All Mountain Uni Rims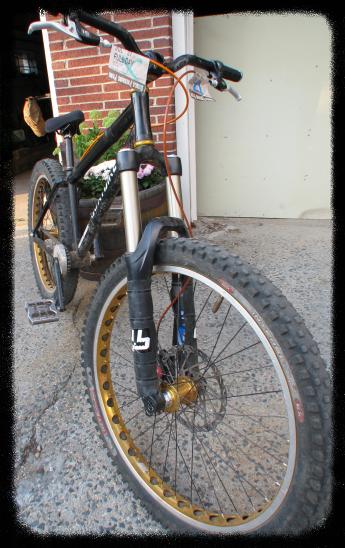 Can a trials rim be used for aggressive freeriding? Better yet, can a mountain unicycle rim be used for such a similar beat down? In my search for a somewhat bulletproof mountain bike rim, I just may have found the best-kept secret by mistake. If you know me and know how I ride my bike, you will know that I have no finesse when it comes to riding mountain bikes. I am just as bad as Paul "Crashpad" going through components like a case of beer. With that said, my search for the ultimate rim to handle my abuse has gone on for years...but my search may have just ended.
MAG 30s, Doublewides even Mavic Deemaxs (just to name a few) are mountain bike rims I retired in a seasonís timeframe. These are all great rims and I would not hesitate to purchase them again because I know a ton or riders that use them with no issues. Most likely these rims were retired to the graveyard because of my poor riding skills and not the quality of the rim. In either case I have accepted the fact that I just may need to purchase new rimes each season. For 2008, I figured I would try something different and go with a rim that had BLING! Searching the Internet I came across gold anodized rims for a mountain unicycle manufactured by Try All Products. I already had a gold theme for my Goatbike and figured these rims would match perfect.
Well, I shelled out the cash for shipping, handling, import charges and associated taxes to get these rims from Europe to my front door. When it was all set and done, one rim cost me about $125.00 with our lousy exchange rate. I could have purchased a complete wheel for this price, but I said, "what the hell...at least my bike will look good even after I crash!" I had the rims laced to my gold anodized Hadley hubs with black spokes by JRA Cycles back in April. Once I rolled out with these rims my crew gave me crap on how ghetto my bike looked with these drilled out gold spinners, but all were intrigued how long these rims would really last.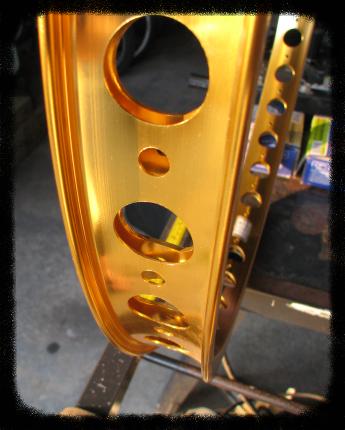 Little about this Try All Rim. These rims are 36 hole 47mm wide (1.85") with a 14mm edge doubled walled weighting in at 675grams (rim only). I am not one for weight savings, but fully built with a Hadley hub, 2.7 Intense EX DH Tire and DH tube (or Gazz 3.0 tire 1935g) a single wheel weights in at just under 9.5lbs. These rims have 34-drilled holes through the double wall allowing you to see the rim tap and tube typical of a trials wheel set. These rims are listed for use on a Mountain Unicycle but can be used for bicycles. The extra wide rim allows the tireís sidewall to stand squarer in relation to the thread as it would on a conventional rim. This permits me to run air pressure as low as 10psi but I typical have kept it around 15-18psi even for downhilling. The extra wide rim also helps greatly reduce pinch and/or snake bit flats because the tube is not pinched between the tire thread and rim when you flat the tire on a jump or speed through rock gardens.
The first test ride on these rims was in Lynn Woods on April 19th (opening day). I was extremely pleased with the wheel performance. Even with the wide tire stance and low air pressure, the bike rolled over the trail with much less resistance then having the same tire mounted on a different rim. I attribute this difference due to a stiffer sidewall since the rim is wider allowing a squarer stance. This would be similar to running your tires with 30 to 40psi making the sidewalls stiffer as not to compress during pedaling. But what is one ride...it's meaningless. I will admit I did not think the rims would last, so I purchased a back up rim from a distributor in Canada just incase. After riding multiple times at Sunday River, Attitash, Diablo Freeride, Highland and a host of local riding spots; dropping, hucking and crashing into trees, these rims held up. My poor and sloppy riding style did not compromise the integrity of these rims. Of course, I do check my spokes once per week to ensure everything is tight, cuz if you do not, bad things happen and I learned the hard way...that is another story.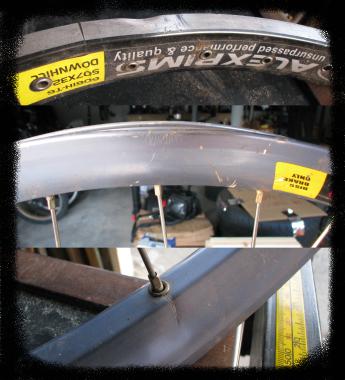 Itís been 18 weeks of abuse on a hardtail and to date I have not flat spotted the rim nor received a flat tire due to the low tire pressure. I have noticed the thread on the tire is wearing more evenly but at a quicker rate. I do run a soft compound and typically get through the season with one pair, but it appears these wide rims chew up the thread quicker since there is more surface contact. I have also noticed these rims are more responsive when cornering at speed. Hitting berms or turning across loose terrain, the rims (in my opinion) minimize tire roll that can occur with a narrower rim. Tire side grip on rocks dry or wet is also noticeable better. I have been running Intense EX DH Tires for some time and know manufactures change there compounds from time to time, but I tested this rim with the same tire and felt the difference in grip performance attributed by the rim.
The final verdict...these rims ROCK! Everything stated must be taken with a grain of salt. Just because I like these rims and find them to be somewhat bulletproof, you may disagree and think I am full of crap. Other factors such as hubs, spokes, eyelets and tire selections all contribute to a bad, good and/or great wheel build. Regardless, these rims work for me and I wanted to share this experience with the community. I have gone through dozens of rims and have just about every one of them in my garage waiting to become something. In fact you can see one of my retired rims are JRA Cycles in Medford, MA. Just ask Brian or Adam to see the DH Wheel Table Dieselbikes built for the new shop, I am sure you will get a kick out of it. I certainly plan on building my next wheel set utilizing these same style rims for my full suspension bike. If you have any questions about these rims, shoot me an e-mail, I will try to answer them the best I can. If you are interested in purchasing a pair youíre going to need to order them from abroad. Try-All Products does not have a listed US distributor per the publication of this product review.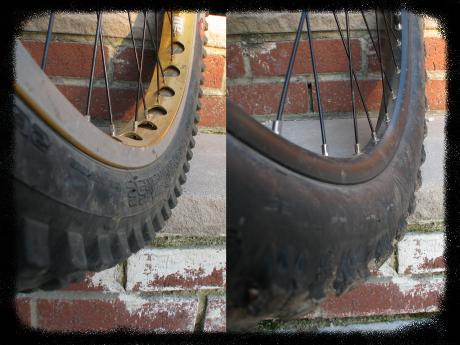 Posted By: Frank "Diesel"
Date: 09/02/2008
Click the icons below
to visit the respective
manufacturers website