Product Review - FSA Gravity Moto X Crank Set
Well, here is another quick product review by Paul "Crashpad". This time Crashpad's epic journey through Lynn Woods has lead to yet another destructive outcome for his mountain bike. Back in mid July, Crashpad was just riding along on a Dieselbikes group ride and decided to launch tiny spacemonkey in preparation for little spacemonkey. Well, in Crashpad's usual style of destroying parts he launched the drop and proceeded to ride the landing on his ball sack. Now with that said, I will need to start from the beginning and say Crashpad rides a leftover 2007 Kona Stinky that he purchased new back in June 2008. With less then 8 weeks of riding time he has replaced and/or repaired the rear shock, front fork, (check out his fork review) rear hub and now the crank set. I personally could possibly chalk up the shock and fork going south because the bike sat on the shelf, but not the hub or crank set. Anyway, here is Crashpad's short review.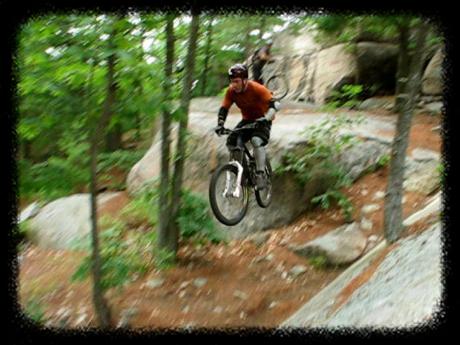 So I was out riding my bike in Lynn Woods with the Dieselbikes crew...minding my own business and guess what happens...I broke my bike. Well I really bent my cranks; in fact, I bent them so bad the non-drive side touched the chain stay! I would feel proud if this occurred on an 8-foot drop, but it was more like a typical Lynn Woods 5 footer to flat. I rolled into this drop with just a full pedal strokes and when I landed the bike bottomed out (typical on this model) driving the crank arm into the ground unearthing a hand size rock. This small rock apparently did all the damage bending the non-drive side crank arm. After recovering and walking the bike back up to the top of the drop, not knowing of this damage, we all joked about what just happened and how silly it appeared.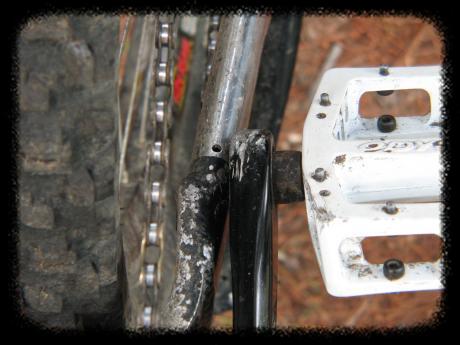 I got back on the bike ready to continue my ride and ended up smashing the crank arm into the chain stay. Pissed off and yelling profanity to no end, I was appalled how easy the crank arms bent because of a small rock. The stock crank arms for my 2007 Stinky were FSA Gravity Series. FSA claims these crank arms to be durable and ideal for freeride use, but I got about 8 weeks. Well, the Dieselbikes crew came up with a brilliant idea to fix my problem. They ended up pounding the crank with a large rock to bend it back so I can get out of the woods. If I remember, it only took two swings of the rock to put the crank arm back into a ride able position. I pulled into JRA Cycles where Brain and Adam were once asking me...what now? They were surprised how much the crank arm bent and chalked it up to another wonderful ride in Lynn Woods. To make matters worst, when they took the bike apart, they found a crack in the FSA bottom bracket that was a result of the twisting. I am lucky the bottom bracket broke and not the bracket shell or I would have to run around on our local trails.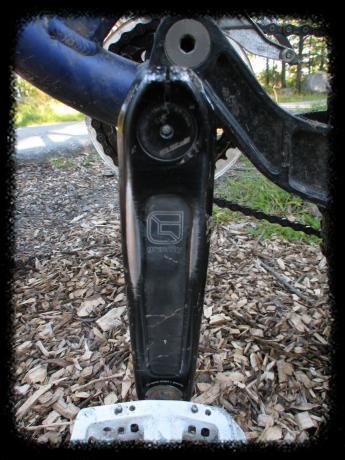 So I pulled out my frequent crasher card and decided to pop on another FSA product. This time I purchased the FSA Gravity Moto-X Crank set. Am I crazy? Going with a similar crank set from the same manufacture that only lasted 8 weeks? Well this is a new 2008 crank set and appears to have a lot more meat on the crank arms as well a wicked oversized x-type bottom bracket. I felt that these cranks would last much longer then the stock units, plus I was in a hurry and wanted to ride my bike again. Well, another 8 weeks have passed and these cranks are holding up much better then the 2007 basic model. They have been sliced, hammered and slammed into more stuff then my head with no problems to report. I typically do not install my own bike parts, I let the shop do that and to date I have not had any peeps, creaks or wobble of the arms or bottom bracket. These crank arms feel much stiffer and the crank bolts are not loosing as occurring with the older pair. I have abused these cranks much more then the last pair since I have a vote of confidence in the product.
Not sure of the major difference between the 2007 Gravity & 2008 Gravity Moto-X Crank set. FSA has done something and it appears to be a much better crank arm. If you do a search regarding these crank sets, you will find mixed review from a number of riders. Some reviews speak of similar experiences while others call them bullit-proof. I apparently got a bum set on the bike, but the new one appear to be of much better quality. Again, I have no reported problems at this time, other then the paint quickly wearing off the crank arms but this is typical. I would be hesitant to recommend this crank set because it appears you have a 50-50 chance to get a good set out of the box, plus their not cheap. Except to shell out around $300, but I have been very happy with them so far.
Here are a few other rider reviews for this product:
- Crankfire Gravity Moto-X Review
- Chain Reaction Cycles Review
- Mountain Bike Review User Info
Review By: Paul "Crashpad"
Posted By: Frank "Diesel"
Date: 10/01/2008