About Lynn Woods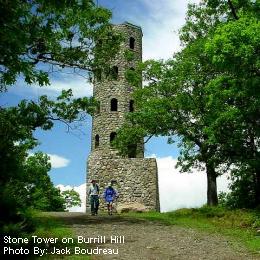 Founded in 1881, Lynn Woods Reservation is a 2,200-acre municipal (City Owned) park located in Lynn, Massachusetts. Lynn Woods extents into the neighboring towns of Saugus and Lynnfield and is the second largest municipal park in the United States next to Griffith Park (4,200+ acres) in Los Angeles, California. The City if Lynn's Department of Public Works, Park Commission and Lynn Water & Sewer Commission share jurisdiction and management of Lynn Woods. The park encompasses nearly one-fifth of the entire land area of the city and represents a significant watershed and public recreational resource for eastern Massachusetts.
Lynn Woods consist of three fresh water ponds, wetlands, streams, birch, evergreens and unique rock ledge. The ponds provide drinking water for the residents of Lynn and other surrounding communities. Even though it sits in the heart of Boston's heavily populated bedroom communities, wildlife abounds in the forest with deer, rodents, red tailed foxes and over 100 species of birds. Lynn Woods is a rare and unique adventure whether riding you bike, jogging, horseback riding and/or just taking a casual walk, Lynn Woods has something to offer everyone.
Park Information
Land Area: Total 2,200 acres encompassing the cities of Lynn, Lynnfield and Saugus
Fresh Water Ponds: Walden ~ 240 acres; Breed's ~ 208 acres; Birch ~ 82 acres
Public Golf Course: 18 holes ~ 180 acres
Gravel Fire Roads: 10 miles
Official Trails: 30 miles
Highest Elevation: Burrill Hill ~ 285 ft (Stone Tower)
For more park information, please visit the City of Lynn's Official website.