Bare Bone's News
General Postings - 2008
Local Business Shout-Out! (Posted Date: 11.04.2008)
We at Dieselbikes occasionally need to give a local business shout-out to companies that contribute and or support our club's efforts. With that said, we need to give a shout-out to Cape Ann Brewing Company located at 27 Commercial Street Gloucester, MA 01930. Cape Ann Brewing happily donated a few cases of delicious beer to Dieselbikes and Sinister Bikes to help quench our thirst during a difficult day out on the trails...

-----------------------------------------------
2008 Halloween Event Re-Cap! (Posted Date 10.03.2008)
Our first ever Spooktacular Halloween Mountain Bike Festival was a complete SUCCESS! On Saturday October 25th, Dieselbikes was happy to host a Halloween event in Lynn Woods Reservation; Lynn, MA. This event was the testing ground for many new operations we will be employing in future events. The weather was great with cool temperatures and cloud cover making it perfect for mountain biking in the woods...
- Click here for the full event re-cap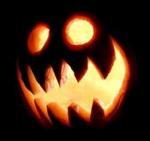 Product Review - Try All Mountain Unicycle Rims! (Posted Date 09.02.2008)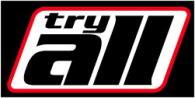 Can a trials rim be used for aggressive freeriding? Better yet, can a mountain unicycle rim be used for such a similar beat down? In my search for a somewhat bulletproof mountain bike rim, I just may have found the best-kept secret by mistake. If you know me and know how I ride my bike, you will know that I have no finesse when it comes to riding mountain bikes. I am just as bad as Paul "Crashpad" going through components like a case of beer. With that said, my search for
the ultimate rim to handle my abuse has gone on for years, but my
search may have just ended...
- Click here for more information
2008 US Mountain Bike Nationals Road Trip! (Posted Date 08.04.2008)
Few of us at Dieselbikes decided to take a trip to the US Nationals held out at Mount Snow in Vermont. This was the first year we attended this event as a spectator after hearing a number of rave reviews regarding this annual event. We decided to attend only one day of this multi-day event with the goal to shoot as much film for our up coming mountain bike movie. The level of talent showcased at this event was amazing. From downhill, XC and dual slalom racing to observed trails, this event had something for every mountain biker.
- Click here for more information
2008 Marzocchi 66RC3 Review! (Posted Date 07.03.2008)
If you are in the market for a new front fork, we may have the right fork for you. Dieselbikes crew member Paul "Crashpad" went out and purchased a 2008 Marzocchi 66 RC3 and put the fork through a beat down. If you know how Paul "Crashpad" rides, then you know he goes through bike parts as fast as we can drink a case of Sam Summer!
Below is a short product review of this fork with just the facts and no long winded dragged out blab, blab, blab…well you get the point.
- Click here for more information.
2008 D-Day Re-Cap! (Posted Date 06.16.2008)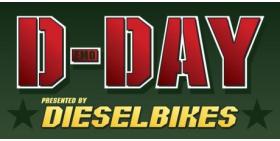 The 2nd annual D-Day Mountain Bike Event was another complete success! On Saturday June 14th, Dieselbikes was proud to promote and host a single DEMO mountain bike day event in Lynn Woods titled "D-Day The Second Drop".
This year we were happy to have warm sunny weather that helped with the festivities and made the event much more enjoyable for all. The event went off without any major hitches, however we did have a few schedule modifications based upon some last minute changes.
- Click here for more information.
Dieselbikes in the Boston Globe! (Posted Date 06.03.2008)
On Sunday May 11th, we at Dieselbikes were given the opportunity to be interviewed by Ethan Gilsdorf, a reporter for the Boston Globe. At first we though this interview would take place at a local drinking spot over a few beers and last only and hour. After speaking with Ethan by phone we found out that he also rides mountain bikes and wanted to head out on a group ride with us to see what the club was all about. With a beautiful day at hand, Ethan and about 10 riders embarked on our group ride through the north side of Lynn Woods. We were not sure what kind of terrain Ethan wanted to ride, nor how long the ride should last, but he suggested for us to do whatever we had planned. Well, we did just that!
- Click here for more information.
Lynn Woods Update 06.03.08 (Posted Date 06.03.2008)
With the help of the local biking community, Dieselbikes was able to complete 100% of our second trail day in Lynn Woods. This was a sizable project that will be broken down into a few trail days spread over the next year. Our main objective was achieved and we are happy to say the trail is open for use. A crew of 5 volunteers worked 6 hours re-routing an eroded section of Ridge Run Trail as it ascends from Ox Pasture Road towards the Ballfield Trail. The team created a new path that has enhanced the overall flow of the trail making it more appealing in both directions. This is just the first project of many to follow in repairing Ridge Run Trail. The new re-routed section has a number of natural technical challenges that are fun and flowy.
- Click here for more information.
2008 D-Day "The Second Drop" (Posted Date 05.05.2008)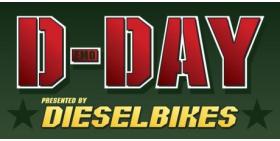 D-Day "The Second Drop" Mountain Bike Event will provide the mountain bike community a one-day experience to DEMO ride a ton of mountain bikes from various manufactures in Lynn Woods. This event is for all riding levels and many different bikes will be available for YOU to test ride on singletrack. This will be a large social event for the community, so mark your calendar for June 14th. Make sure to bring your bike, friends and family members. Everyone is welcomed.
- Click here for more information.
Lynn Woods Update 04.28.08 (Posted Date 04.28.2008)
With the help of the local biking community, Dieselbikes was able to complete 80% of our first trail day in Lynn Woods. This was a huge project and we able to achieve our main goal of cutting and define the trail thread. A crew of 16 volunteers work 6 hours cutting, digging and armoring a section of new trail that is sure to be one of the best lines in Lynn to date for mountain bikers.
We were able to complete most of the required trail work, but not able to finish two important and difficult switch backs due to time and energy levels of the volunteers. Dieselbikes plans on going back out with our core team to adjust and finish these sections over the next month.
- Click here for more information.
2008 Lynn Woods Trail Maintenance Series (Posted Date 03.01.2008)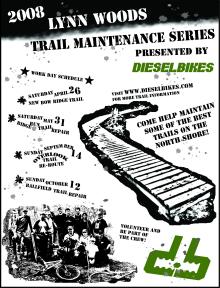 Dieselbikes is proud to announce our 2008 Lynn Woods Trail Maintenance Series. The dates are set and all of our proposed projects have been approved. We are going to start the season off with a huge project involving cutting a new section of trail leading down the back side of Bow Ridge near the power lines to the newly approved El Sweeny Trail. Below is a list of proposed trail project plans for 2008. Each project is design to increase trail sustainability for all users of the park.
New Bow Ridge Trail ~ Map Section: D2
Date: April 26, 2008
This project encompasses cutting the final trail section to connect the top of Bow Ridge Trail to the new El Sweeny Trail cut back in 2007. This Trail will serve as part of the parameter Trail system around Lynn Woods.
Overlook Trail Repair Section: D4
Date: September 14, 2008
This project encompasses re-routing and rock armoring a section of trail that leads from the newly installed bridges last year at marker D4-6 up to Overlook Crag. This will greatly reduce soil erosion and create a more stable trail thread.
Ridge Run Trail Repair Section: E5
Dates: May 31, 2008 & October 12, 2008
This project encompasses re-routing and rock armoring a section of Ridge Run Trail leading from trail markers E5-4 to E5-3. This trail work will make this section more appealing and offer an alternative route down from the Ballfield Trail Network.
New Sponsor – KENDA (Posted Date 02.15.2008)
We are proud to announce that Kenda Tire & Tube has sponsored Dieselbikes for 2008. This is big news for our club since we are working to build relationships with the bicycle industry. This sponsorship will help Dieselbikes further expand and promote the sport of mountain biking throughout New England.
You will see a number of Dieselbikes members rolling on Kenda tires this season. If you see us out on the trails and have questions about Kenda's tires, please feel free to ask us what we think. We will give you a "no-bull" answer.

Apparel Fire Sale!!! (Posted Date 02.04.2008)
We are clearing out our 2007 active apparel line up to make room for our 2008 line up. All selected 2007-men/women apparel will be reduced by half price. This fire sale will run for the month of February or until inventory is gone, which ever comes first. We do have limited sizes and inventory available for sale, so check our website before ordering. All purchases shipped within the 48-continental United States have free shipping & handling charges. We have been pleased with our apparel sales for 2007 and hope 2008 is even better. New t-shirt graphics, pants and other products are on their way for this spring!
- Click here for sale products
Movie Premiere - Feb 24 2008! (Posted Date 01.28.2008)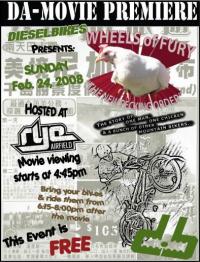 Dieselbikes is hosting a movie premiere on Sunday February 24, 2008 for our just released video Wheels of Fury "The New Pecking Order". You and all your biking friends are cordially invited to attend this FREE event. That's right, FREE. This movie premiere will be held at Rye Airfield and Dieselbikes has rented out the facility for this our movie showing and park ride after. If you come to watch the movie, you get to ride the park after the showing. The movie will start at 5:00pm, so get there early. Movies will be available for sale ($15.00) after the premier and all monies collected will help Dieselbikes continue our trail/event efforts for the local biking community.
2007 Local MTB Movie Available! (Posted Date 01.02.2008)
IWe at Dieselbikes are product to present our 3 local mountain bike movie titled, Wheels of Fury "The New Pecking Order". Get ready for a non-traditional mountain bike movie that is a little on the crazy side! This movie is a mix of local mountain bikers ripping up some of our favorite trails with the addition of a funny story line that is sure to make you laugh. This movie features music by local New England Bands such as Drunk's Don't Lie, The Welch Boys, James Nation, 16 Years of Grace, Say When, Canucks, AVERI and Shorty M40. Packed with a few funny bonus sections this movie contains over 70 minutes of video and will leave you wanting to watch it over and over. Wheels of Fury "The New Pecking Order" is currently available and all orders will begin shipment on January 7th 2008. (click here for video trailer) (click here to order video online)